More beauty options for Vietnamese women
The story began when a partner doing business in South Korea introduced me to some friends who own cosmetic clinics in Seoul. They invited me to cooperate with them in promoting the development of a foreign customer base for major aesthetic hospitals. Recognizing the potential of the industry and finding myself well suited to the job, I began building a South Korean office to assist Vietnamese and other customers in the country. I love to beautify myself and spend a lot of time studying the field to make myself more beautiful. The field is now more advantageous, as representatives from many major institutes in South Korea have hands-on, accurate information about hospitals and doctors in each field, so I invested in Lisa MEDI Beauty with technology from South Korea. Vietnamese patients can go to South Korea for cosmetic surgery, or we can arrange for South Korean doctors to come to Vietnam and perform surgery on clients who don't have the time to travel.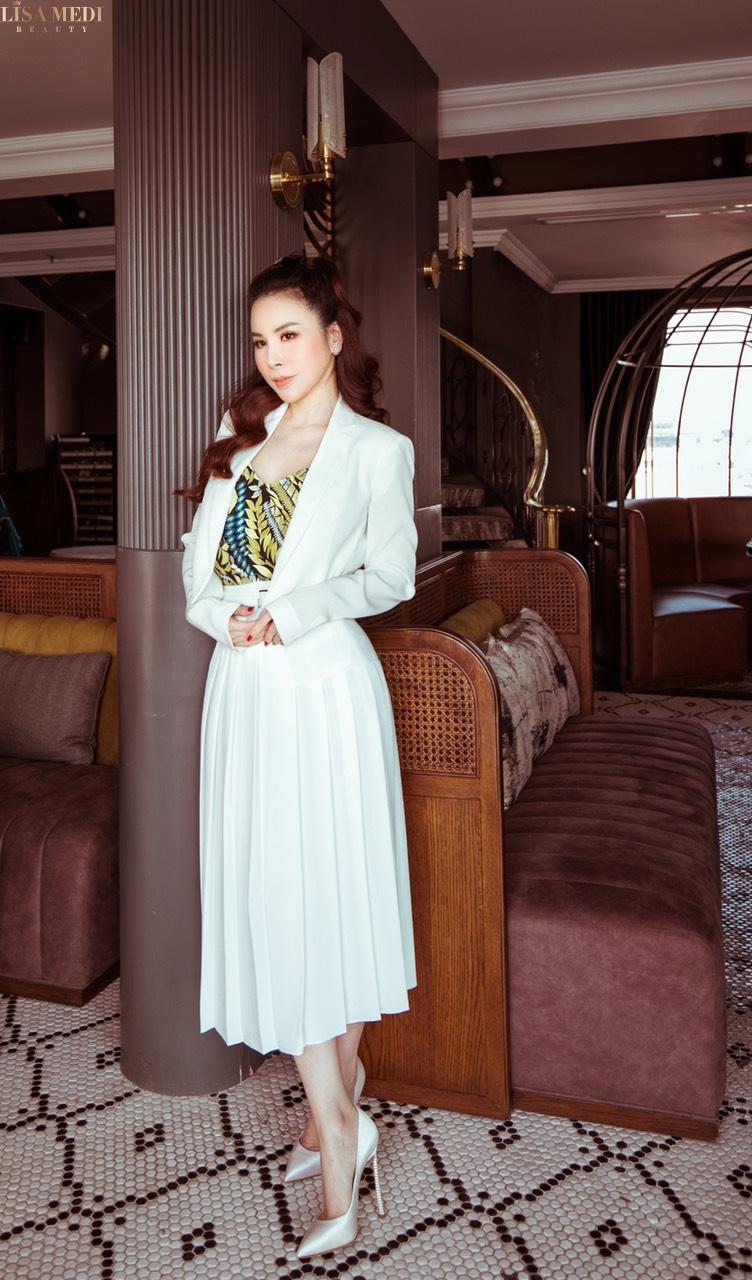 Ms. Hoang Dung, CEO of Lisa MEDI Beauty
■ Are you satisfied with the results of Lisa's MEDI Beauty in 2017? What results have impressed you? 
Compared to the trade sector, in which I've been involved for many years, the results of my new business are modest. But for me, sales figures don't make much sense. In the beauty industry, it's difficult to make all clients happy 100 per cent of the time, because there are always some people who are not happy with the results. What makes me proud of Lisa MEDI Beauty is that the proportion of such people is small, and we always work with our customers to reach a consensus on how to resolve any problems. This is a motto for all my business activities, not just in the field of beauty.
■ What do you think about the potential of the healthcare and beauty market in Vietnam? 
I think there is major potential in the average and medium-income segment but in the high-end segment it's not so easy. I want to conquer our high-income clients by having relationships with foreign partners, in whom they are more likely to feel confident. As a representative of many major institutes in South Korea, I have confidence about conquering fastidious customers in the segment.
■ There are many companies in Vietnam involved in the healthcare and beauty market. What are the strengths for Lisa MEDI Beauty? What is your goal for Lisa MEDI Beauty in 2018? 
The market is very large and everyone has their own place and position. I don't actually spend much time looking at what others do. I believe I should put my heart into my services to give clients what they want. 
The difference at Lisa MEDI Beauty is that we have offices in both South Korea and Vietnam. We have a company in South Korea that can help clients from Vietnam and other countries become beautiful, which means that we have enough information about big institutions as well as good doctors and advanced beauty methods. It is these things we have brought back to Vietnam to serve customers who do not have the time to go abroad for beauty treatment. That means our clients are receiving services in Vietnam equivalent to the services available in South Korea. My goal in 2018 for Lisa MEDI Beauty to invite more good doctors from South Korea to come to Vietnam and beautify women in the country.
■ Women are as educated, capable, and creative as men. But in business and career advancement, women are more likely to encounter difficulties and barriers than men. What are your thoughts on this? 
If you defy the limits, there is no difference between men and women in the workplace. But I am the kind of woman who wants to be fulfilled in my career and my family. I always place boundaries on myself in my career so I can take care of my family. Maybe I won't be a brilliant career woman, but I'm happy with the balance: a good career and a family of peace. There are many women who are feminists and seek absolute freedom, but I like balance. That's my choice and I'm comfortable with that.
■ How do you balance work and family? 
I acknowledge that every job has stages. There are times when you need to spend more time at work, but when there is a steady period you will have more time for yourself and your family. So, I need support from my family when I need to spend more time on the job. And I am fortunate to have that support. To accomplish everything, I have to manage my time well. There are only 24 hours in a day, and while some people do many things, others do not. 
■ In the context of Industry 4.0, businesses in general and female-owned businesses in particular will have plenty of opportunities to prove their abilities and develop better. Do you agree with this? 
Industry 4.0 will bring a lot of change to production, management, and governance systems. It offers leaps and bounds but also poses many challenges for all of us. It requires that we adapt to survive.
■ You have recently announced sponsorship of VND1 billion ($44,000) for a less-fortune client to go to South Korea for cosmetic surgery. Can you tell us more about this? 
Lisa MEDI Beauty works in the beauty sector and in the high-end segment, where I have the chance to welcome clients who can afford high-end services. I was also Miss Ao Dai Vietnam 2017, and many of my fans have contacted me and expressed a desire to be beautiful but they lack the financial capacity. There are some cases where I believe that if I could help them gain access to good doctors in South Korea, there would be a dramatic change in their appearance. So, I decided to implement a project to fund up to $44,000 for a less-fortunate member of society, as part of our corporate social responsibility. Our company will select one of our less-fortune clients and cover the entire cost of surgery, travel, and accommodation in South Korea. We hope this will inspire many women in Vietnam, so that they can love themselves more and dare to change to be happier in life.